Claiming Your Google Business Page for your Veterinary Practice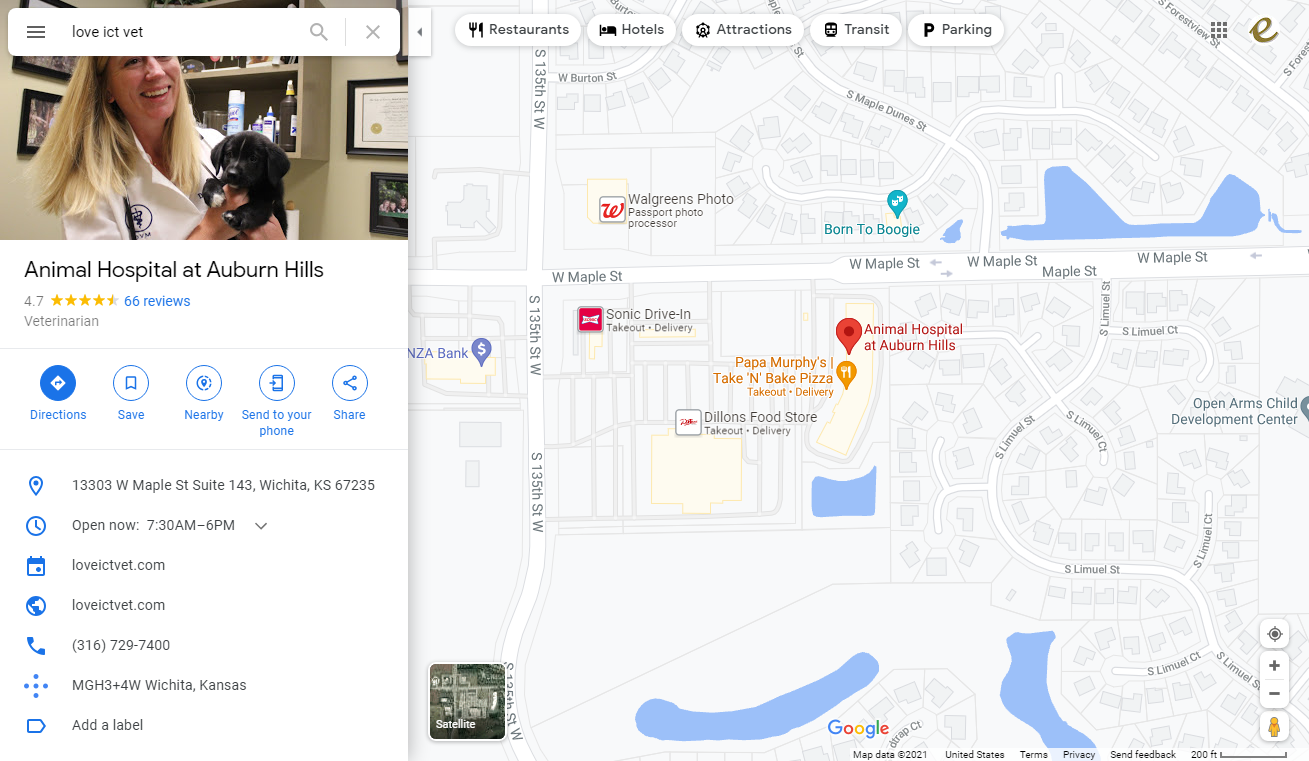 There are many benefits to claiming your Google Business Page for your veterinary practice, including making sure that the information on your listing (which shows up in Google Searches and Google Map results) is accurate and up to date. In addition there are other benefits including making it easier for your clients to leave you reviews, and making it easier to claim your listing on other search engines like Bing. Follow these steps to claim your Google Business Listing and if you need help, do not hesitate to contact us!
Claim your Google Business Listing
Go to the Google My Business website
Sign in to your Google Account, you may need to create one, if so click here. Then, click

 

Next.

Sign up with your Google Account

Enter your veterinary practice address. Then, click

 

Next.

You may also be asked to position a marker on the location of your practice on a map. If your business doesn't have a physical location but operates within a service area, you can

 

list the area instead. Then, click

 

Next. 

Choose how your veterinary practice will display on Google Maps.

If you have a physical location at your business address:

Enter your

 

business address.
Click

 

Next. If you also serve customers outside your business address, you'll have the option to list your service areas as well.

If you don't serve customers at your business address and are a mobile or house call practice:

Enter your

 

business address.
At the bottom, click

 

I deliver goods and services to my customers  Next.
List your service areas, then click

 

Next.
Note: Your address will not be displayed! Google only uses this for verification. 

Search for and select a business category. There should be a category for Veterinarians. Then, click

 

Next.
Enter your practice phone number or website URL, then click

 

Finish.
Select a verification method. We recommend reviewing your information before you request verification.

To verify now,

 

at the top, find the red banner and click

 

Verify now.
To verify later,

 

click

 

Verify later

 

 Later.
If you're not authorized to manage the Business Profile,

 

find the person in your organization who's authorized and continue the process.
When you select Verify Now, Google will either mail you a postcard with a verification pin code OR your practice will receive an automated phone call.
Tip: If you see a message that someone else has verified the business, You can request ownership of the Business Page.
Add your veterinary practice through Google Maps
On your computer, sign in to Google Maps.
You can add your veterinary practice in 3 ways:

Enter your address in the search bar. On the left, in the Business Profile, click

 

Add your business.
Right-click anywhere on the map. Then, click

 

Add your business.
In the top left, click Menu

 

 Add your business.

Follow the on-screen instructions to finish signing up for Google My Business.
Claim your veterinary practice through Google Maps
On your computer, open

 

Google Maps.
In the search bar, enter the business name.
Click the business name and choose the correct one.
Click

 

Claim this business  

 

Manage now.

To choose a different business, click

 

I own or manage another business.

Select a verification option, and follow the on-screen steps.
Using Google Business to Get More Reviews
Your Google Business Page has a special URL feature that makes it easier for your clients to leave your practice reviews. 
This URL is called a "short name" and is basically a short link that takes clients directly to your Google Business profile. In our case, the link is
g.page/evetsites
Here's how to set up your short name!
On your computer, sign in to

 the 

Google My Business page.
Select your veterinary practice profile. (If you have more than one, select the one you'd like to create a link for)
Enter your short name, the character limit is 32 characters. We recommend using a short but easy to remember name, like g.page/yourpracticename  

If your name isn't available, you'll see an error message and must choose a different name. Try an abbreviation or include other descriptions, like your location or service area. You can also pick another word that describes your practice
Short names can't contain non-English characters.

Click

 

Apply. Your short name then displays as pending. When it's ready to be used, you'll find it on your Business Profile.
Share your short name with clients! You can let clients know you would appreciate their kind words either in an email format or via a text. The link makes it easy to share via most methods. Getting more positive reviews serves as a great antidote for the inevitable not so positive reviews and more reviews will help your SEO!
As always, we are here to help! Please reach out to us if you are stuck on any of these steps.