Creating and Managing Email Accounts
The steps in this article describe how to create your email account using eVetSites email accounts. Each eVetSites website can include up to 20 complimentary email boxes if eVetSites manages your domain name. If you have any questions or concerns, you are welcome to give us a call for assistance at (888) 332-5316.
POP Email Setup
E-mail setup and administration is located in the administration section of the website. Additions, modifications or deletions of email can only be performed by the Administrator on the eVetSites account.

Log into your website using your login information. Your login will be administrator in all lower case. Your password should have been emailed to you. If you need help with the password please contact us. 
Now that you have logged in, please navigate to the upper right portion of the screen and click on the Admin home button


You are now at the Administration main page and should see an icon for mail. Please click the mail icon.

The Webmail administration screen lists options to create new accounts and manage existing email accounts. Click on the Create an Account link on the right side of the screen to create a new account. 
The Create an Account window opens.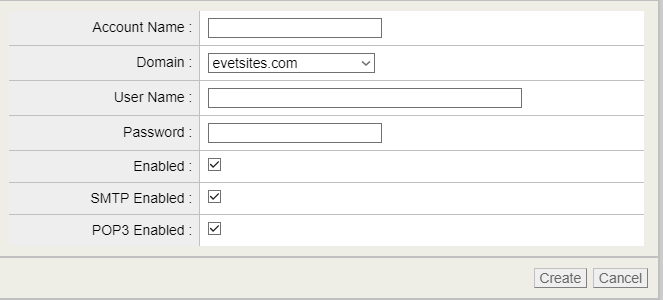 Account Name field
: Enter the individual's real name. This is for the Administrator's reference only and may be typed in standard case (ex Jane Smith). This will be the name that people see when you send emails. 
Domain name: if you have more than one, please select the domain you want to be associated with this email. 
User Name: This will establish the name preceding the @ sign in the email, such as (info@mywebsite.com). The user name should be all lowercase letters or numbers and may not contain spaces, special characters or punctuation. This field cannot be edited as it will be used to establish the user's Login ID into the email system and will also become the email address for the user. 
Password: Your password should be at least six characters long, including numbers, upper and lower case letters and special characters. 
Leave the 3 checks in the boxes. 
When all fields are completed, please review carefully then press the Create button. As long as the Username is unique in the email system, the newly created account will be saved and will now display in Your Email Accounts listing. 
To ensure that your email goes live, make sure to log into your account at least one time. Click Login to Webmail and after that, your email will be ready to use in about half an hour.

Check your email, go to the internet address
https://checkmymail.net
and enter your entire email address and password. This will bring up your mailbox where you can read, compose, and send email.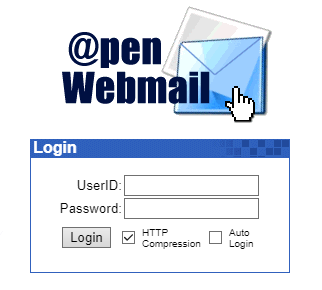 If you need help with setting up your email or have questions, please contact us and let us know. We are here to help!